ALMA SHIPPING, is an independent Marine Services provider specialized in the West African region. The Management teams have a combined experience of more than 30 years on the African continent.
Created in 2007 as ALMATUG , the company which was renamed ALMA SHIPPING in 2014 owns and operates a fleet of workboats such as Tugs, Multicats, Crew and survey vessels and barges.
ALMA SHIPPING services are mainly for the marine construction and dredging projects and offshore energy industries which expertise is the shallow and ultra-shallow water operations
On top of its qualified crew and the high class vessels, the strength of ALMA SHIPPING is its long experience of the West African environment and its difficulties.
Since 2011, ALMA SHIPPING operates in close partnership with ACTA MARINE, a leading independent marine services provider, based in the Netherlands.
Part of the fleet is jointly operated and the vessels are permanently positioned in the Gulf of Guinea to serve our customers.
ACTA MARINE owns and operates more than 40 workboats and offers them for charter all over the world
Please check our Services and References pages for more details.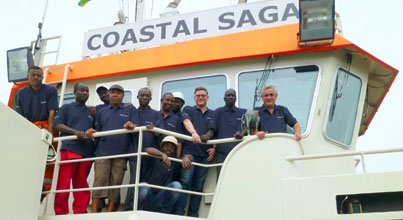 Today, ALMA SHIPPING vessels are operating all along the West African coast, from Morocco to Angola and you can find ALMA SHIPPING offices or representation in Africa where our business is, as well as in France.
AFRICA:
Togo: Shipyard / Technical Base
Cameroun: Warehouse / Workshop / Operations base
EUROPE:
Netherlands: Head Office
France: Management / Commercial office
Please visit our Contact page for more details
QHSE Policy:
Last but not least, ALMA SHIPPING is continuously working to improve its quality, safety, health and environment procedures which ALMA Shipping Management and employees consider as an important part of our duties.
Please see attached our QHSE and D&A policies.
All the ALMA SHIPPING owned or chartered vessels are under Class, fully insured and P&I covered.